New York, concrete jungle where dreams are made of… One of my all time favorite cities not only in the US, but in the world. I went back to the big apple a bit over a month ago and I figured it was the perfect post to restart my blog.
Nueva York, Una de mis ciudades favoritas no solo de EUA sino del mundo. Regrese a esta ciudad hace un poco más de un mes y pensé que era el blog post perfecto para reiniciar mi blog.
I haven't been in the city in a hot second and going back made me realize once again why I love this city so much. I always find new places to explore and even though I have been to the city a couple times before there's always more places to see and not enough time to do so. However, it keeps me excited for the next time I'm around.
Ya tenía unos cuantos años sin ir a la gran manzana y regresar me hizo darme cuenta una vez más porque amo esta ciudad. Tiene una energía que me encanta. Además de que siempre encuentro nuevos lugares que explorar y conocer, y aunque he estado en NY muchas veces siempre hay cosas nuevas que ver.
Today I would like to share with you some of my favorite spots in the city and if you have any recommendation, share them in the comments.
Hoy quiero compartirles algunos de mis lugares favoritos en esta ciudad y si tienen alguna recomendación déjenla en los comentarios.
Sightseeing | Turismo
 Top of the Rock: If you're looking to see the city from the top definitely go here, in my opinion this observation deck has the best view of the city.

 Top of the Rock: Si estas interesado en ver la ciudad desde arriba este edificio es una parada obligatoria, en mi opinión este observatorio tiene la mejor vista de la ciudad.
One World Observatory: Just like the Top of the Rock, this is an observation deck, however keep in mind that if you choose to visit this building you'll be in the tallest building in the western hemisphere which is pretty cool.
One World Observatory: Igual que Top of the Rock, este es un observatorio aunque tomen en cuenta que si visitan este edificio estarían en el punto más alto del hemisferio occidental, además de que puedes ver toda la ciudad desde este punto.
Brooklyn Bridge Park: Hands down one of my favorite places, the view of Manhattan from this park is unreal. If you like walking I recommend walking through the Brooklyn Bridge and going to this park, it's a nice change from the hecticness of the city

Brooklyn Bridge Park: Sin lugar a duda uno de mis lugares favoritos, la vista desde este parque hacia Manhattan es irreal. Si les gusta caminar, les recomiendo caminar todo el Brooklyn Bridge e ir a este parque, es un buen cambio del bullicio de la ciudad.
Central Park: I'm sure you've all heard of Central Park, a lot of movies have been filmed here and if you've ever been you know why, it's truly beautiful and there's a lot of things to do. My favorite parts of the park are the Bethesda Fountain, the Belvedere Castle and since I'm a huge Beatles fan, Strawberry Fields.

Central Park: Estoy segura que todos han escuchado sobre este parque, miles de películas han sido filmadas aquí y si han ido saben porque, es hermoso además de que hay mil cosas que hacer y conocer aquí. Mis partes favoritas del parquet son Bethesda Fountain, Belvedere Castle y como soy fan total de los Beatles también Strawberry Fields.
Times Square: I'm sure you've all seen the huge billboards; this is probably the most touristic place in the city, its always crowded. However there are many things to do, you can shop, eat, take pictures, etc.

Times Square: Seguro han visto los espectaculares gigantes de Times Square; es probablemente uno de los lugares más turísticos de toda la ciudad, siempre esta lleno. Hay mil cosas que hacer, comprar, comer, tomar fotos, etc.
Broadway: This is where you can see all the shows, the experience is incredible and the shows are amazing. My favorite one is Wicked.

Broadway: Aquí es donde puedes encontrar todas las obras de teatro, la experiencia es irreal – totalmente recomendado. Mi obra favorita es Wicked.
---
Museums | Museos
MoMA: One of the best museums I've ever been, and probably one of my all time favorites. If you like modern and contemporary art, you'll be happier than at Disneyland in this museum. They have pieces from Dalí, Picasso, Monet, Gauguin, Van Gogh, Matisse, Frida Kahlo, Pollock, Warhol, Lichtenstein, etc.
MoMA: Es uno de los mejores museos de los que he tenido la oportunidad de ir. Si te gusta el arte moderno y contemporáneo, es parada obligatoria. Tienen obras de Dalí, Picasso, Monet, Gauguin, Van Gogh, Matisse, Frida Kahlo, Pollock, Warhol, Lichtenstein, etc.
MET: This museum is more historical since it has exhibitions from different cultures. My favorite part is the Costume Institute; they hold fashion exhibitions a couple times a year, so if you like fashion definitely check it out. Btw, the steps of the MET are great for photo ops, especially if you liked Gossip Girl.

MET: Este museo es mucho más histórico ya que tiene exhibiciones de diferentes culturas. Mi parte favorita es el Costume Institute; tienen exhibiciones de moda un par de veces al año, así que si les gusta la moda no duden en checarlo. También si les gusta Gossip Girl no duden en ir a las escaleras del MET.
9/11 Museum: On my last trip it was the first time I visited this museum and I was dumbfounded. It tells minute by minute the events that happened on 9/11, it's a memorial and an emotional museum but I would totally recommend it.

9/11 Museum: Esta fue la primera vez que visite este museo y me sorprendió bastante. Cuenta la historia de los actos terroristas que ocurrieron el 11 de Septiembre del 2001, es un memorial y un museo muy emotivo pero lo súper recomiendo.
---
Restaurants | Restaurantes
Serendipity 3: I'm a huge fan of the movie; if you haven't watched it, do it, you won't regret it. This is the restaurant central to the movie and if you go definitely try the frozen hot chocolate.

Serendipity 3: Soy fan total de la película; si no la han visto háganlo, no se arrepentirán. Es el restaurante en el cual se basa la película y si van tienen que probar el famoso frozen hot chocolate.
Ladurée: You probably heard of the famous Ladurée macarons, NYC has two establishments, if you want to eat here definitely go to the Soho one since the one in Madison doesn't have restaurant. It's a bit more expensive than usual but absolutely worth it

Ladurée: Seguramente han escuchado de los famosísimos macarones Ladurée, la gran manzana tiene dos establecimientos, si quieren comer ahí vayan al que esta en Soho ya que el de Madison no cuenta con restaurante. Es un poco caro, pero vale pena.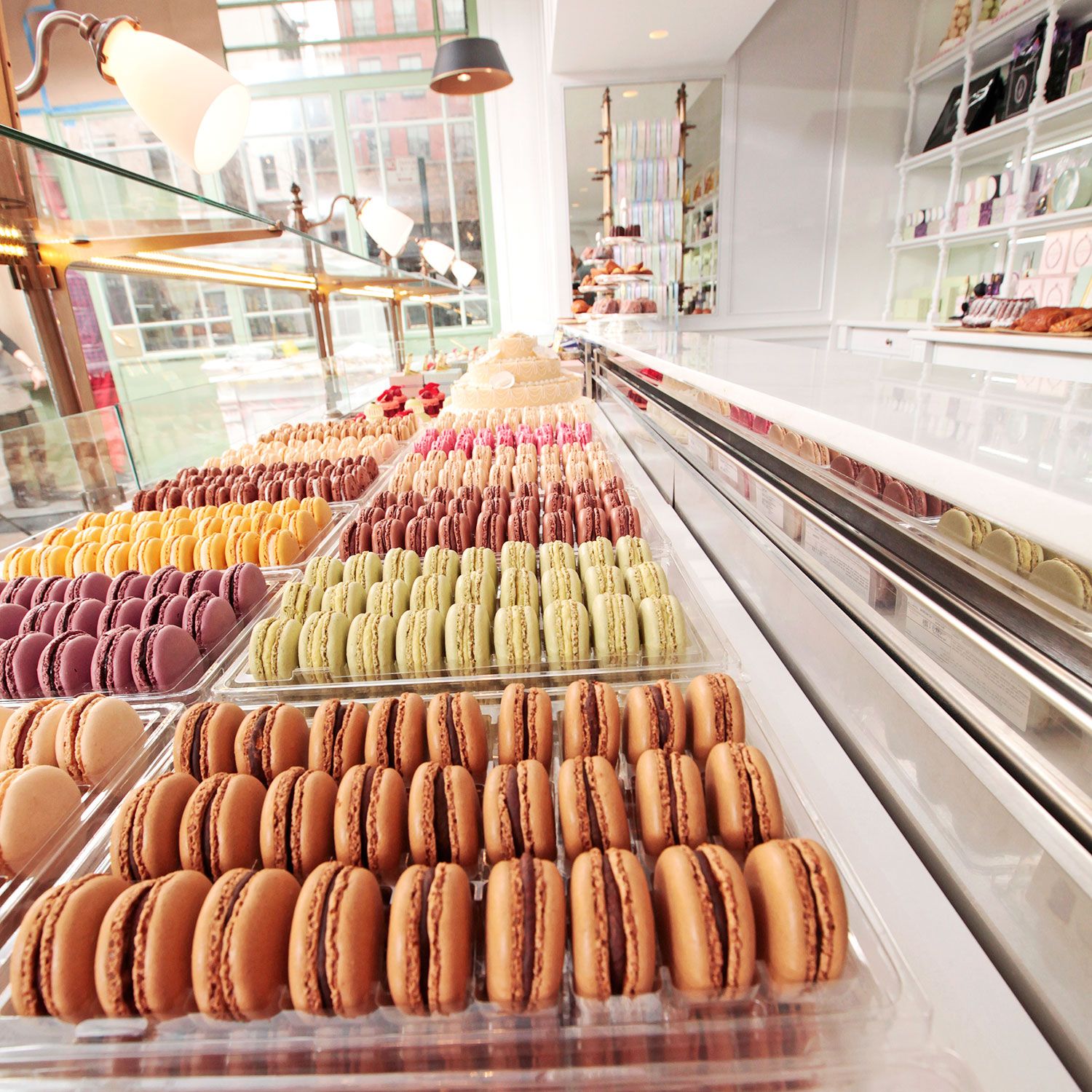 Shake Shack: I haven't decided if I'm an In-n-Out kind of person or a Shake Shack one but you need to try these burgers if you are in the east coast of the US.

Shake Shack: Sigo sin decidir si me gusta más In-n-Out o Shake Shack pero definitivamente prueben estas hamburguesas si están en la costa este de EUA.
Hard Rock Café: The Hard Rock Café is one of the most representative restaurants in Times Square; the whole meal is an experience. I recommend you make a reservation online; it'll save you a long time.

Hard Rock Café: Yo creo este es uno de los restaurants más representativos de Times Square; toda la comida es una experiencia. Les recomiendo hacer reservación en línea para ahorrarse mucho tiempo.
Sprinkles ATM: I'm a cupcake fan. If you want an on-the-go treat, you definitely need try this ATM – its fast and easy.
Sprinkles ATM: Soy fanática de los cupcakes. Si se les antoja un postre, definitivamente tienen que probar esta maquina, es muy fácil y rápido de usar.
Those are some of my NYC recommendations; let me know if you try them or if you recommend any place in the city let me know.
Estas son algunas de mis recomendaciones para hacer en Nueva York; avísenme si prueban alguna o si tienen alguna otra recomendación en la gran manzana.
Viridianna.